Bicycle Race - Promotional Video
From Queenpedia.com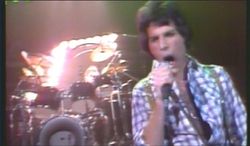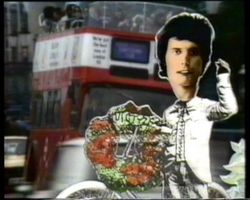 On the same day as they shot the video for Fat Bottomed Girls, Queen and Dennis De Vallance also recorded performance footage for inclusion in the video to Bicycle Race, at the Convention Center, in Dallas, Texas. Upon reviewing the footage, however, the band decided it was unsuitable and shelved it, choosing instead to create a collage of images to pad around footage of their very own staged Bicycle Race... between 65 naked women!
The race was staged on 17th September 1978 at Wimbledon Stadium, London, as part of the promotional campaign for the then forthcoming Jazz album. The models raced around the stadium for a very eager audience of film crew and photographers (though the band could not make it to the event) and the footage was incorporated into the video, though for natural reasons it was heavily distorted with various multicolour blocking effects. Interestingly, bicycle firm Halfords, who had provided all the bicycles, refused to take back the used saddles and demanded the band paid for replacements.
The original collage video became widely available thanks to its inclusion on Greatest Flix, yet whilst sourcing the Greatest Video Hits 1 DVD in 2002, the complete and long-lost footage from that infamous Bicycle Race was rediscovered, premiering in Channel Four's Killer Queen documentary that summer, before being intercut uncensored with the Dallas based performance footage to present buyers of the DVD the first chance to see a new video closer to the band's original vision.
Credits
| | | | | | | | |
| --- | --- | --- | --- | --- | --- | --- | --- |
| Version | Name | Artist | Recorded | Format | Length | Director | Filming Location |
| Collage Version | Bicycle Race | Queen | 17th September 1978 (bike race scenes) | Video | 3.02 | Unknown (credited to Dennis De Vallance on vhs releases) | Wimbledon Stadium, London (bike race scenes) |
| GVH1 Version | Bicycle Race | Queen | 17th September 1978 (bike race scenes), 28th October 1978 (performance scenes) | Video | 3.02 | Dennis De Vallance | Wimbledon Stadium, London (bike race scenes), Dallas, Texas (performance scenes) |
Availability