Roger Taylor
From Queenpedia.com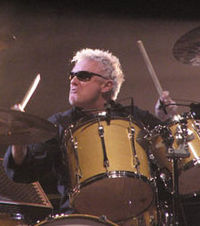 Biography
"I remember the first time I saw Roger on drums. His flamboyance just blew me away." That was what Smile's front man, Tim Staffell, thought of their new drummer after he had replied to an advert on a college noticeboard, asking for a "Ginger Baker/Mitch Mitchell-type drummer". Roger Meddows-Taylor had thought that Smile would suit his needs, and Tim, along with guitarist Brian May, thought Roger was the right man for the job. Tuning his drums up for the auditions may have helped, as it certainly had impressed them. Smile formed in 1968.
Smile wasn't Roger's first group, though. By the age of eight, Roger was playing the ukulele in The Bubblingover Boys, a makeshift skiffle band. They were dreadful, Roger later admitted. That didn't stop them charging neighbours to see them play. He left them in 1960 when he joined the Truro Cathedral School, and, soon after, its choir. He bought a cheap acoustic guitar and taught himself the basics. But it was soon put to one side when Roger managed to assemble together a drum set. He knew that drumming was more 'his thing'.
Whilst at the Truro Private School, he and a few friends formed The Cousin Jacks in 1963. He played rhythm guitar for a short while, but soon moved to drums. A few concerts for the local Liberal Party followed, but there was little else. In 1965 he joined yet another band - Johnny Quale & The Reaction. After coming fourth in a local music championship they became well established around Cornwall, and didn't let the small detail of the departure of their lead singer - Johnny - stop them. Renamed The Reaction, with Roger as a front man (literally - his drum kit was moved to the front at his insistence) went on to win the same championship in 1966. More gigs followed, and they supported bands such as T-Rex and Slade.
In 1967, Roger gained all the qualifications he could at home, and decided to study dentistry at the London Hospital Medical School in October. The Reaction carried on until the autumn of 1968, when Roger went back to London. And there he saw a certain notice, written by a certain Brian May. Early Smile gigs took place around Cornwall, where Roger was known from his Reaction days. During this time he realised dentistry wasn't for him, and he left University. Smile, although only semi-professional, did very well, and released a single - Earth - in August 1969. However, in 1970, Tim left the group to play in Humpy Bong, and was replaced by a friend and follower of Smile - Freddie Bulsara.
If Roger had had his way, they would have been called the Rich Kids, and the fist album called Top Fax, Pix and Info. But as it happened, Freddie got his own way. Queen's first gig was at the Truro City Hall in June 1970, and in July, Roger went to study biology to get a grant for extra income. Touring Cornwall, they were often known as "Roger Taylor and Queen", and, once, "Legendary Cornish Drummer Roger Taylor", and as an afterthought, "and his band Queen".
On the first album, Roger's only song was Modern Times Rock'n'Roll, and Roger's distinctive Rod Stewart/John Lennonesque vocals were first heard. During Queen's career, he sang lead on a number of songs, most notably on Tenement Funster, I'm In Love With My Car, and Drowse.
Roger started a solo career in 1977 with I Wanna Testify, on which he played every instrument. The same is almost true for his first album, Fun In Space from 1981. Strange Frontier, his second solo album, was released in 1984, and has a very 'anti-nuclear' theme, especially on Beautiful Dreams and Masters Of War, a Bob Dylan cover. Freddie, John, and Status Quo's Rick Parfitt guested on the album. The video for Man On Fire was banned by the US MTV due to the implication that a small girl was blown up in a burning building.
In 1987, Roger advertised as a "drummer of a top rock band looking for musicians", and several auditions later, The Cross were formed. Roger took lead vocals and insisted he wasn't the drummer - that was Josh Macrae. Shove It came out in 1988, with Brian guesting on Love Lies Bleeding (She Was A Wicked, Wily Waitress), and Freddie on Heaven For Everyone. 1990 saw the release of their second album, Mad: Bad: And Dangerous To Know. The band ran into more video trouble with the promo for Power To Love, featuring a rather decadent and raunchy feast with the band surrounded by women in low-cut dresses and men in Charles I wigs. It was edited in the UK, due, perhaps, to a shot of two women and a banana.
Blue Rock was the last Cross album, as they disbanded in 1992, "still good friends" according to Roger. Released in September 1991, it is the strongest of the three albums. Perhaps they would have gone on to better things, but with Roger's preoccupation with Queen, and the lack of promotion, The Cross couldn't really continue. One single came off the album - New Dark Ages - and both were released in Germany only.
On top of all this, Roger has kept busy elsewhere. He was the driving force behind The Freddie Mercury Tribute, and on the day gave one of the best performances of his life. Most recently, perhaps, he played with John, Brian and Elton John at the premier of a ballet based on Freddie's life, performing a storming version of The Show Must Go On. Roger has released two further solo albums - Happiness? in 1994, and Electric Fire in 1998 - and has worked heavily with Brian recently, namely on the We Will Rock You musical and the collaboration with Paul Rodgers.
Roger once said that he hopes never to become "old rich and useless". There certainly doesn't seem to be any danger of that.
—Simon Davies (Ramirez), originally appeared on the now-defunct Queen Heaven site. Minor edits made by Lester Burnham.
Miscellanea
Songs credited to Roger on Queen albums

Queen songs with Roger on lead vocals

Solo albums

Family

Romantically associated with Dominique Beyrand (1976 - 1987) and had two children with her:

- Felix Luther (22 May 1980)
- Rory Eleanor (29 May 1986)

Married Deborah Leng (1987) and had three children with her:

- Rufus Tiger (8 March 1991)
- Tiger Lily (10 October 1994)
- Lola Daisy May (2000)